Warburton Chalet (Orginally "Mayer") Sponsor: Deloraine Homestead. History by Robin Fisher.
Please contact suppliers and services directly as to how COVID-19 may affect the way their products or services are delivered. Stay safe everyone!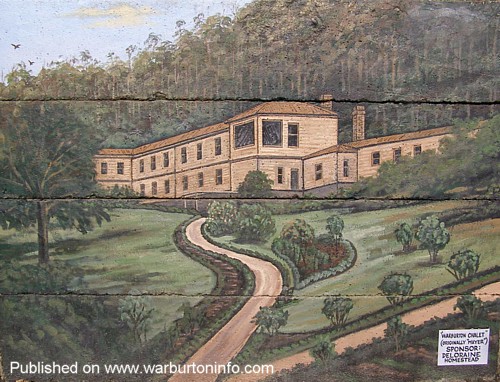 In 1928 Philip Henry Mayer, an ex Mayor of Northcote, purchased "Woodlands" situated on the rise alongside Scotchman's Creek and had plans drawn up and built the most up-to-date Guest House of 50 rooms. In the late 1930s after extensive travel overseas, he and his wife Winnie Mayer planned to increase the guest house to 200 guests giving them maximum comfort and service. In 1942 the Mayer Chalet was used by St Catherine's Girls' School of Toorak after their school was taken over by the R.A.A.F and the 200 pupils aged from 8 to18 years evacuated to Mayer Chalet, a further 63 pupils aged 3 to 10 years were sent to Mountain Grand. In 1945 The Chalet was taken over by the R.A.A.F. No1 Medical Rehabilitation Unit . The Chalet was again used as a Guest House and after extensive renovations in 1947 became one of the largest premier Guest houses in Victoria. By the 1950s they catered for over 300 guests with any overflow going to Mayerloyd Guesthouse and farm, so named after his son Lloyd, who was killed Fighting in New Guinea in 1943 . A lot of dairy and produce they used was made and grown and sheep, pigs, poultry and beef raised and slaughtered at the Mayerloyd Farm. They also owned the Golf course and an electric lighting plant was run from there to the Chalet and Mayerloyd for additional power. Philip Henry Mayer died in 1953 and the firm was run by his brother Julius Albert Mayer. The Mayer Chalet changed hands around 1970. The Warburton Chalet was burnt to the ground in 1973.
Robin Fisher