About Warburtoninfo.com - We're independently run and funded
How does this site work?
This site first went live in April 2009.
Our website is not funded by any government or tourism organisation. We're 100% independent.  In fact our independence is the reason local bureaucrats don't support us, because we can do so much for so little: there is no where for wasted resources to hide. So in 2018 it is with the support of just 35 local businesses in and around Warburton that we're able to continue publishing over 500 pages of information about Warburton, all indexed by Google. BIG THANKS TO THOSE BUSINESSES. However, without any support from the significant ratepayer funded resources of the local tourism association we are unable to monitor and respond to all Facebook posts. In snow time, and with most events, we post a primary update about that event and then ask followers to check our snow page or relevant page on Warburtoninfo.com. EG Our snow page has lots of regular FAQs answered. 
Warburtoninfo.com is owned and operated by husband and wife team Paul and Visnja. We walked the walks, talked the talks and lived in Warburton for over seven years. We also created and gifted to the entire Warburton valley the 'squiggly' Warburton Valley logo used by many, and featured in local marketing and used by different local organisations. We're really proud to have gifted that ongoing branding benefit now enjoyed and used in the Valley. With over 160 000 site visitors a year on WarburtonInfo.com we welcome the opportunity to promote more businesses along the Warburton Highway. Their support helps us help you.
We'd also like to say thank you to all Warburtoninfo Facebook likers for their support, posts, answering of questions and participation in getting good, honest, unbiased information out there. It makes a difference and all of Warburton benefits. :)
Paul and Visnja, February 2018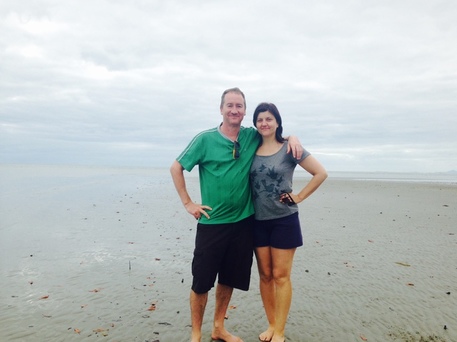 The history of creating Warburtoninfo.com in 2009
With over 10 years experience of online marketing and the creation of online directories like www.ozdoggy.com.au - Paul wanted to create something special for the Warburton Valley - that would fly the local flag. Paul decided early on he would like to support the local business networks. The growth of the internet was leaving local organisations without a viable tool to promote the region and help develop business. Fridge magnets and local calendars had been replaced by 24/ 7 online directories. Warburton had nothing to promote the region and badly needed to 'get online'.
Warburton needed a truly dynamic, up to date resource to help build business, develop tourism and inform visitors about our area. After building the site earlier in 2009 Paul partnered exclusively with Warburton Highway Tourism, The Warburton Waterwheel Visitor Information Centre, The Warburton Chamber of Commerce and Warburton Valley CEDA. Now this website is able to offer promotion to any businesses interested to join and promote their business, and support Warburton and the work we do on www.warburtoninfo.com  (Businesses can register here) Paul has dedicated numerous 'offsite' resources to assist www.warburtoninfo.com to be successful and search well on Google.
If you are inside or outside the valley and need help with your online marketing like Google AdWords, SEO, websites with easy DIY CMS editing or generally understanding how the internet works - services start from $165. Contact Paul on 0409 004 770 or see his website www.jacko.com.au