Warburton Videos - Local tourism videos and snow videos of Warburton.
Welcome to some moving images and 'vibe' from Warburton. When you've finished watching, stay on www.Warburtoninfo.com and check out things to do, cafes, places to stay or any of the menu buttons on the left. :) Paul @ WarburtonInfo.com
Our newest video - and its a music one called Seven Bridges Road by Mark Holden. It features (sometimes local) musician Visnja on tin whistle - with opening shots filmed on the swing bridge and Dammans Bridge in Warburton. Enjoy!
Next a really nice video of Mt Donna Buang cycling experience and a few local sights, helicopter / drone aerial footage - all set to music - enjoy!
Dirty Don from CycleAtlas on Vimeo.
BELOW: Snow on road to Mt Donna Buang August 2014: Driving down from a snowy Mt Donna Buang. The music that happened to be playing in the car is a CD by Harpist Michael Johnson - who is currently resident composer of the Melbourne Botanic Gardens. A really lovely CD for relaxing and driving. Warburtoninfo.com team bought the CD at Michael's recent concert in Melbourne - also available at his website here
BELOW: Small kids toboggan and snow play on Mt Donna Buang 2012.
BELOW: 2012 - A quick toboggan at the carparks 200m from the summit - the weather was closing in so we headed back down.
Joh meets Boinga Bob, Better Homes and Gardens : Ep 33 (13.09.2013) - clicking the picture below will take you to the yahoo online video site to watch this 4:25 mins video tour of Boinga Bob's Warburton House. (As a CH 7 commercial TV show segment - you'll have to watch an advert first...but it's a good segment that respects Bob and his work)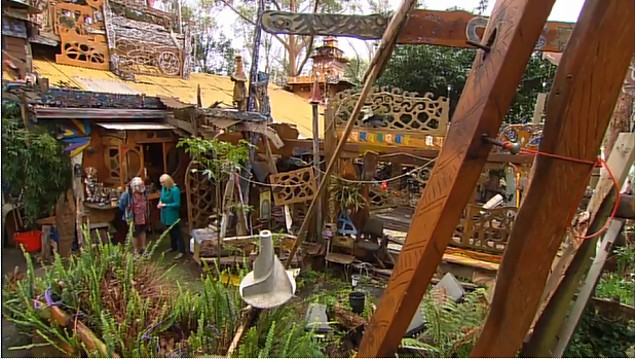 A conversation with chairs - shot outside Billy May's space design at the Water Wheel late 2012. Anyone who loves Warburton will agree this definitely has a great 'Warburton Vibe'. Thanks Susan for putting on the event - great video work by Gareth Benson. enjoy!