Smile - Warburton local Luke Whiteside
Medicines have changed the world. Medicines have saved children, cured illness, prolonged life, extended the quality of life, and given life to our brothers, sisters, uncles, aunties, fathers, mothers, friends, neighbours, our old and our defenceless young. If you don't do it for yourself, then do it for the people you know, and do it for the people you don't know. Do it for your job. Do it for the economy. Get vaccinated as soon as you can. Thank you.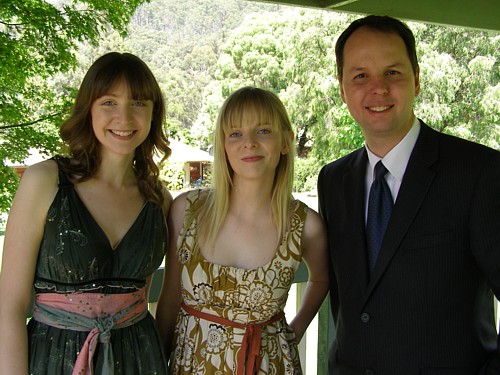 Luke was an extra on the Surviving Georgia film in 2009 - he played a Marriage Celebrant - pictured here with two Melbourne based bridesmaids. For those of you that know Luke - his part as Marriage Celebrant was close to the real thing :)
Thanks for letting us post this picture Luke.
And we've also added a WarburtonInfo.com picture of the film crew filing on the Main Street - quite a bit of action for Warby that day :)