Alpine Retreat Hotel - Sponsored by Alpine Hotel. History by Robin Fisher.
Medicines have changed the world. Medicines have saved children, cured illness, prolonged life, extended the quality of life, and given life to our brothers, sisters, uncles, aunties, fathers, mothers, friends, neighbours, our old and our defenceless young. If you don't do it for yourself, then do it for the people you know, and do it for the people you don't know. Do it for your job. Do it for the economy. Get vaccinated as soon as you can. Thank you.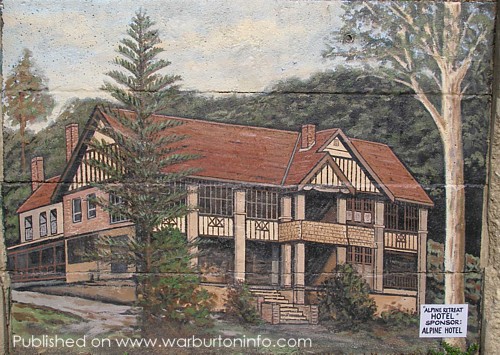 The First Alpine Retreat Hotel was built in 1885 by John Thomas Robinson but was sold shortly after when his son died, choking on a bone. Mr. J. C. Wildman then ran the Hotel from 1889 to 1903 selling it to the Mrs. Alice Ann Leith. In 1908 Mr R. Leith completed some extensive additions to the premises. At the rear of the hotel he erected a large two storied building of 18 rooms on top of a large dining room, kitchen, laundry and several smaller rooms. The building was erected on the most modern lines. In 1936 a brick front was added and major works were undertaken.
This hotel had a huge horse -shoe shaped bar that went nearly the length of the present bar room and pool room with 6 or 7 taps and overhead glass shelves. The patrons in the mid 1950s and 60s would be 3 or 4 deep at the bar trying to get a beer before 6 O'clock closing. About this time Mr W . G. Leith made further extensions by adding a new lounge room (known as the Red Lounge) with Guest rooms above. Outside brick staff rooms and garages were built. Further inside improvements over the years have greatly enhanced the hotel and it remains a top country hotel.
Robin Fisher