Warburton Swing Bridge - Sponsor: Jeanette & Mike Illey of Charnwood Cottages. History by Robin Fisher.
Please contact suppliers and services directly as to how COVID-19 may affect the way their products or services are delivered. Stay safe everyone!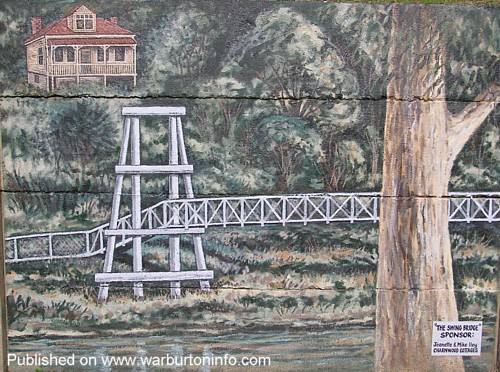 In 1952 a flood destroyed the centre part and railings of the old wooden bridge over the Yarra at the tennis courts. This bridge was used by residents living north of the river and children going to the elementary high school. It was declared unsafe in 1953 after a lady lost her life while crossing a temporary section, made up of four timber planks with wooden stakes on the sides holding fencing wire to walk between.
In the late 1950s council decided to build a higher access bridge at this point and to do so meant using it only as a foot bridge and raising its level to stop floods washing it away as had happened in the past.
The house in the photo was owned by a Mr Bill O'Brien who worked on the C.R.B for many years and in the 1950s his garage was dug into the clay bank with a tin roof at ground height and wooden doors (one way to save timber).