Dammans Road Primary School - Sponsor: June & Dick Leith / Kerry & Neil Jorgensen. History by Robin Fisher.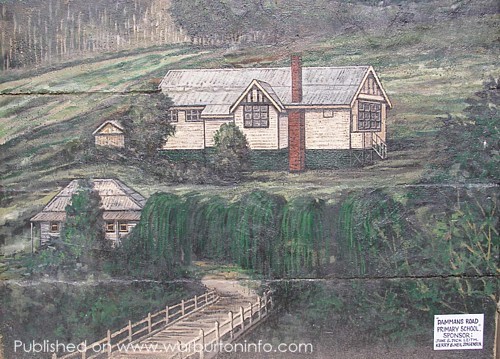 This mural is of the Warburton State School on the hill and was built and opened in 1908. After several years of holding School in the Mechanics Hall at Upper Warburton the townspeople finally had their New School, though the entrance was up a steep incline of 100 or 99 or 72 steps depending on who you talk to. After 1945 put me down for 79 large concrete pavers, one after the other, so big you had to have both feet on them at once before you took the next step and these only went to the entrance of the school, other path-rises and steps where inside the gate.
In the front of the School pines and other trees had been planted in 1918 by The Warburton A.N.A, and Townspeople to commemorate our Soldiers in the First World War though the plaques have long gone and now the land is taken up for housing. No doubt, some trees would be still there today, (who can remember the Boat Swing in front of the School or the shelter sheds under the School, the Laurel tree, or the itchy powder tree, the Hot Milk cocoa supplied by The Mothers Club on winter mornings in metal pannikins too hot to handle, School swimming sports in the Yarra River or walking to the Recreation Ground to play Sport).
At the rear of the school, steps led up to the "girls' pitch" of about 15metres by 5 metres wide and above that a stone wall with more steps in the centre to the "big boys' pitch" of about 18 metres by 10 metres. Clay from one end to the other. A Pine Tree plantation was above this playing area, which was removed in the mid 1950s by Dick Treloar using his horse team.
In 1953 Warburton Primary School shifted to a new building in Horner's Road, La La, and the School on the Hill became Warburton Elementary School which catered for grades seven and eight, now known as Forms 1 & 2, and catered for students from as far as Upper Yarra Dam to Yarra Junction.
In 1958 the School became Warburton Higher Elementary School and the following year it was destroyed by fire.
Robin Fisher