The Redwood Forest - (California Redwood or Coast Redwood) Cement Creek Road, East Warburton VIC 3799
Please contact suppliers and services directly as to how COVID-19 may affect the way their products or services are delivered. Stay safe everyone!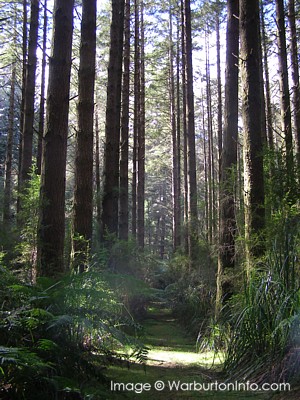 See closure due to physical distancing here:
https://www.parks.vic.gov.au/news/2020/02/additional-park-closures-for-public-safety
About: Smaller trees and glade beside the larger Redwood trees. These redwoods are a magnificent stand planted by the board of works in 1930 following the clearing of a eucalypt forest. Trees planted were: Bishop Pine, Douglas Fir and Californian Redwood. Further plantings of Radiata Pine, Western Red Cedar and Redwood took place in 1960-63. The plantations were selected for experimental purposes as part of the Board's hydrogrogy research program. Access is unrestricted but it is strongly encouraged to treat the area with respect. Sometimes in the redwood forest you're not sure what you've discovered until you're standing on it. Beautiful moss and fungi, ferns, river all the way up to the towering trees. Take a picnic and enjoy a sunny spring afternoon.
See more details at the link below
http://trusttrees.org.au/tree/VIC/Warburton/Cement_Creek_Road