If you're looking for something to do on a lovely sunny afternoon - then head to the Upper Yarra Dam. It's a beautiful place to visit!
Sunday April 27th, 2014
Getting to the Upper Yarra Dam is easy. Turn right after Lilydale onto the Warburton Highway and just keep going - straight ahead. Stop for coffee, check out towns along the way. All along the Warburton Highway - through Warburton, McMahons Creek - lunch at the historic Reefton Hotel - past the turn off to Marysville - directly to the gates of the Upper Yarra Dam.
A few hundred meters from the gates take the first left and park near the info shelter.
McVeigh's Waterwheel.
This Waterwheel has some stories to tell but we won't put them all here. After many years service, the wheel survived the 1939 bushfires, has been moved several times, put in storage, restored and located near the Upper Yarra Dam in December 1978. Much of the woodwork has been replaced - but all hardware is the real deal. A great way to see a part of history and a waterwheel that generated much needed electricity for machinery and local electric lighting.
Batts Creek Point Walk
About 100m from the waterwheel - Batts Creek walk is a leisurely 20-30 minute walk along a beautiful little creek. We saw a lyrebird and a huge termite mound beside the track. Nice place to stretch the legs beside running water.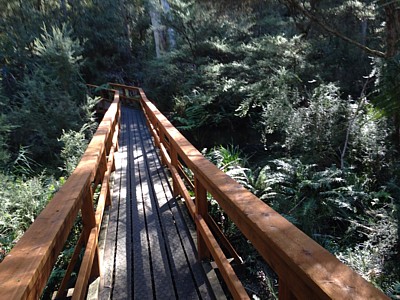 Upper Yarra Dam
Completed in 1957 - the Upper Yarra Dam creates the Upper Yarra Reservoir Park and is an important water source for Melbourne. It is operated by Melbourne Water.
Info from the plaque on the dam
Height above river bed - 293 feet
Width at base - 1000 feet
Width at crest - 30 feet
Length of crest - 2000 feet
The park has excellent camping facilities and is a popular camping spot. See the link below to Parks Vic information - which includes gate times and other useful information for visitors.