Kofi Kunkpe West African Drummer / Percussionist
Medicines have changed the world. Medicines have saved children, cured illness, prolonged life, extended the quality of life, and given life to our brothers, sisters, uncles, aunties, fathers, mothers, friends, neighbours, our old and our defenceless young. If you don't do it for yourself, then do it for the people you know, and do it for the people you don't know. Do it for your job. Do it for the economy. Get vaccinated as soon as you can. Thank you.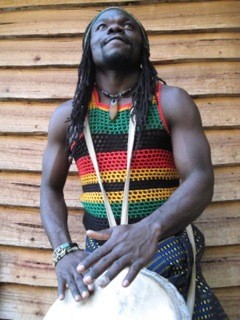 Kofi Kunkpe is a master drummer from the Volta Region of Ghana. In Ghana he performed extensively and taught traditional drumming and dancing to Westerners traveling to his country. A keeper of his culture, he is passionate about sharing it with others.
Kofi now lives in the Yarra Valley, Victoria and is available for stunning cultural performances, workshops and classes for all age groups and abilities.
Kofi can work solo or with any number of highly skilled African dancers and musicians, creating an unforgettable performance or event.
For more information please use the website link below
or contact Santha on 0412 199874 or on kofikunkpe@iinet.net.au
http://www.westafricandrumming.com.au