WARBURTON LILYDALE RAIL TRAIL
Warburton is a natural hub for recreational cyclists - and caters particularly well for families and recreational riding groups.
The Lilydale to Warburton Rail Trail runs west from Warburton, for 40km, all the way to Lilydale train station. The trail provides a wonderfully relaxed and safe cycling experience. It is particularly well-suited to families, being separated from traffic along its full length. It is an old railway alignment, so contains only easy grades – particularly along the eastern portions immediately west of Warburton.
The surface is well-maintained, hard-packed gravel, making riding easy and safe for adults and children alike.
Start your ride at the old Warburton station site, behind the Police Station adjacent to the town centre. There is safe parking available, and the COG Bicycle Cafe is right there on the Trail, ready to supply great coffee and food, and to attend to the needs of your bicycles as well
Remember that the Rail Trail is a shared-use facility, and is used by walkers, runners and horse-riders as well as cyclists.
For a more detailed description of the Rail Trail, simply enter Lilydale to Warburton Rail Trail into your search engine.
FAQ: Want to take your dog for a walk on the trail? Yes you can - but it must be on a leash. There are many precious little animals around that need to be protected from dogs - and it's also the law. So dog owners with dogs off a leash can be fined by Yarra Ranges Council or other local enforcement. So please - remember to bring your leash - and then enjoy a healthy walk with your dog.
Dogs on Mt Donna Buang? Sorry - no - that is prohibited.
AQUEDUCT TRAIL (featured picture below)
The O'Shannassy Aqueduct Trail, was built in 1914, and after delivering water to the Melbourne metropolitan area for 82 years, was fully decommissioned in 1996. The access track which runs along beside it now provides a wonderful cycling experience.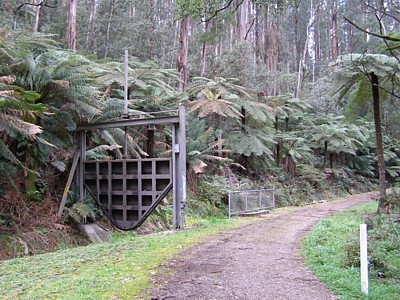 Since recently taking over responsibility for the O'Shannassy Aqueduct Trail. Parks Victoria has upgraded several sections, and opened it up for public use. The well-developed sections provide a magnificent ride through enchanting mountain ash and tree-fern forests, with wonderful glimpses down into the Yarra valley.
The best-developed section which is particularly well-suited to family outings, is from the Yuonga Rd car park at Warburton (northern end of Yuonga Rd), through to the Dee Rd car park adjacent to Millgrove. This section is just 7km long, but makes a perfect out-and-back family ride. Being adjacent to the aqueduct, this results in a virtually flat ride the whole way as the trail winds its way along the contour through the forest.
The aqueduct trail is accessible for some 20km east from Warburton, through to the old O'Shannassy Wier, which was the entry point for water coming in to the aqueduct from the O'Shannassy River. This is slightly more challenging in respect to the surface conditions, and there are some steeper slopes involved, but is a highly enjoyable mountain-biking experience.
For those interested in the history of this amazing structure, try the following link:
http://oshannassyaqueduct.weebly.com/
(Thank you Phil Wallens from Friends of the Rail Trail for this information)
July 2013
RE: Dogs on the O'Shannassy Aqueduct Trail
We believe that on this portion of the Aqueduct only - you are permitted to take a dog but it MUST be on a leash.
See: https://walkingmaps.com.au/walk/124
July 2020.