2021 - The 37th Annual Warburton Film Festival has been postponed. New date to be advised
Medicines have changed the world. Medicines have saved children, cured illness, prolonged life, extended the quality of life, and given life to our brothers, sisters, uncles, aunties, fathers, mothers, friends, neighbours, our old and our defenceless young. If you don't do it for yourself, then do it for the people you know, and do it for the people you don't know. Do it for your job. Do it for the economy. Get vaccinated as soon as you can. Thank you.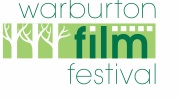 Previous promotion below. See website for more details.
****************************
The 35th Warburton Film Festival will be held at the Warburton Arts Centre over the weekend of 15 to 17 June 2018.
On behalf of the Yarra Ranges Film Society, I welcome you to this year's Warburton Film Festival in which I am sure you will find a feast of great movie viewing.

The program this year comprises a wide diversity of genres. The eight films chosen include drama, documentary, comedy, and science fiction from 6 different countries of origin. All of these films were released in the last 3 years and were selected not only for their excellent qualities but also because of their limited release in Australian cinemas.
You may have noticed that this year's program has only eight feature films, whereas in previous years we have had nine. This is because of a new innovation we have introduced, devoting one session entirely to short films. In this session we will screen the winners of the four sections of the Show Us Your Shorts competition, held each year in conjunction with this festival, plus an international short film of great interest. I urge you to not miss this most entertaining session.
Details provided on YRFS website.
Keith Wade
President, Yarra Ranges Film Society
(Edited WarburtonInfo)
http://www.warburtonfilmfestival.com.au/WFF/Home.html