The Yarra State Forest near Warburton is a hidden gem when it comes to Trail running. Only an hour or so out of the Melbourne CBD, the scenery and the forest are awesome, featuring towering eucalypts and other forest giants, coupled with a lush fern covered undergrowth. Everything a trail runner could dream of.
We are offering a great variety of events with a festival atmosphere at the event hub and campsite.
The festival includes the first multi day stage trail events in Victoria giving trail runners the choice of completing either 80km or 100km over 3 days. The 100k is broken down as 34/42/24 whilst the 80k has a 21k on day 2 for a combination of 34/21/24. What are you like at backing up day after day? This multi day is a great test of endurance!
Big Forest Run 42 is a point to point race and the course for the main part follows the Walk Into History walking trail which follows some well-preserved sections of historic timber tramlines, past old mills and other relics of the early timber industry. You will also get to run past the Ada Tree a 300 plus year old forest giant and one of the biggest Trees in Australia!
You will be transported to the start just past Powelltown by bus, and the atmosphere on the bus is sure to be buzzing, ….a bit like a bunch of schoolkids going on their first excursion to the zoo!
You will be well supported at the aid stations, and be rewarded with a nice gentle downhill run for most of the second half of the course.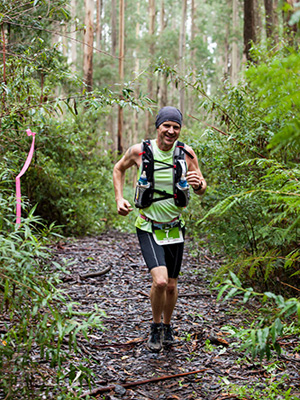 The finish area is on private property in a great little valley just next to the Yarra River, where you can jump in for a refreshing dip if you like after your run.
The course is excellent for spectators and supporters with all aid stations easily accessible.
Check out some of the photos from our last event here in April to get an idea of what you are in for, and get a bit more detailed information on the course description and the course map and elevations pages.
The Victorian Trail Running Festival is set to become another quality event on the Victorian Trail Running calendar adding to the many great trailrunning events now available. Victorian Trail runners have never had it so good!
If you need any further information not contained on this website, just contact us and we will respond to your enquiry.