Jennie de Varga - Ph 0438 706 135
My Sacred Healing sessions assist you to feel deeply relaxed and connected to your true self. Working through the layers of emotional, mental, physical and spirtual blockages that you may be feeling in your body.
Guidance and messages from healing guides and angelic beings, to assist you on your path.
I have been studying energy healing for 16 years. Incorporating Reiki, Sekhem and Crystals, angelic assistance, healing guides, working through your aura, chakras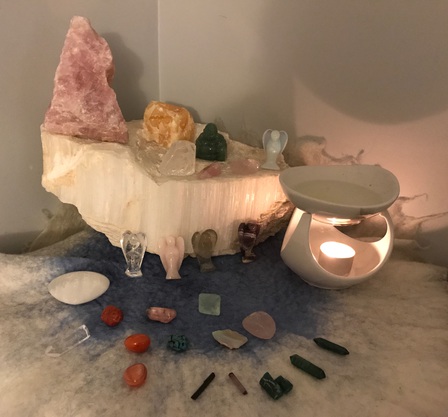 Testimonials
Jennie creates and holds a profoundly beautiful and loving healing space. My treatment with Jennie felt like a reconnection with eternity, and a limitless state of being. I was able to connect with a part of myself that had lain dormant for some time, buried under the constant grind of parenting and working. I came out of my treatment with Jennie feeling cleansed, and connected to the core of the earth and the heart of the cosmos. Jennie is a wonderful healer who has the ability to create a safe and incredibly deep space, where one's heart and being can truly BE.
Xx 💚 Andrew D Warburton. 29/8/2017
There is no simple way to describe all the things that Jennie is able to help you with, as a healer. Apart from the fact, that I'd never felt such energy & power from Reiki, as I did with Jennie, I walked out of her room with every cell in my body, vibrating. I felt intensely energised, light, at peace & a feeling of being loved permeating throughout me. It was exactly what I asked for & more.

A week later I was able to speak openly & honestly to my father for the first time in my life. I learn't that we shared the same un-lived dreams. That day, we put an end to thought patterns that no longer served us. Thanks to you Jennie, and your work as a light worker, healer, medium, and desire to assist others to be the best they can be, I was able to clear blockages in my ancestry, learn another lesson & move on. If you feel you're in a rut and you can't move out of it, go and see Jennie de Varga.

With Love Francesca 11/12/2017



Universal Reiki - Jennie de Varga

Ph: 0438 706 135

4 Hoddle Street, Yarra Junction
Qualifications
16 years experience practising intuitive and crystal healing on family and friends
Six years experience practising Reiki and Sekhem healing professionally
Six years experience sending distance healings to NZ, UK, Dublin, Western Australia.
Reiki I Certificate
Reiki II Certificate
Masters Reiki Certificate
Masters Sekhem Certificate
Counselling course with Metavision Institute
A member of 'The Reiki Association of Australia Inc'
Applied First Aid HLTCPR211A, HLTFA201B, HLTFA311A
Victorian Police check and Working with children police check
Creator of energetic vibrational essences to assist healing on all levels
Business Development Course, Certificate 4 in Small Business Management
Assisting in the developmental stages of children with a understanding of Steiner education
View Image (Size: 7.59 KB)