Trail running in Warburton
Medicines have changed the world. Medicines have saved children, cured illness, prolonged life, extended the quality of life, and given life to our brothers, sisters, uncles, aunties, fathers, mothers, friends, neighbours, our old and our defenceless young. If you don't do it for yourself, then do it for the people you know, and do it for the people you don't know. Do it for your job. Do it for the economy. Get vaccinated as soon as you can. Thank you.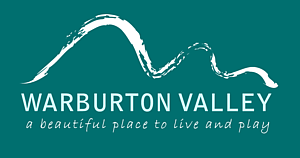 Jeff Wallens
July 2013
If you're looking for a range of off-road running options, be sure to pencil a trip to Warburton into your running calendar.
Nestled in the Upper Yarra Valley 72 kms east of Melbourne, Warburton offers runners a feast of trail runs, from long, flat compacted trails that will satisfy every budding marathoner, to the most challenging mountain climbs that will test the mettle of any hardcore trail junkie.
The Lilydale-Warburton Rail Trail (total length: 38 kms)
The Lilydale-Warburton Rail Trail is a must for any runner wanting to zone-out from all distractions and lock in that essential long Sunday morning run. At 38 kilometres end-to-end, this is the ideal destination to bank a lot of uninterrupted k's on a flat, firm gravel trail.
The trail follows the old Warburton Railway route that once linked Melbourne with vital timber supplies further up the valley, and will have you meandering through scenic farmland, wineries and river flats. Toilet facilities are located on the trail at Millgrove and Yarra Junction.
For a completely flat out-and-back run, leave the car at Millgrove and head west. Or for a run with a kick in the tail, make your finish line at Warburton, which will have you returning on a smooth bitumen section that gradually rises over the last 3.5 kms from Millgrove. But your efforts will be rewarded. There are numerous options for restoring your reserves of caffeine and carbs – some conveniently located right on the trail.
O'Shannassy Aqueduct Trail (total length: 32 kms)
If it's a secluded run you seek, head for the O'Shannassy Aqueduct Trail. Once an off-limits vehicular maintenance track for the O'Shannassy Aqueduct, this is possibly the flattest, most pleasant off-road run you'll find. Don't be fooled by the landscaped car parks, tourist maps and sign posts - this remains one of Warburton's best-kept secrets, and one can't help thinking that the efforts to promote the trail are low-key for a reason.
The open concrete aqueduct was painstakingly constructed a century ago as part of a series of ambitious water infrastructure projects to drought-proof Melbourne. With a drop of just 2 feet for every mile, the aqueduct once ensured a gravity-fed supply of water from the valley to the city. But today, the project's legacy is a lovely, compacted gravel trail that accompanies the aqueduct on a completely flat, meandering course that hugs the curves and ferny gullies of Mt Donna Buang.
The trail's closest access point from Warburton is at the end of Yuonga Road, just a couple of minutes north-east of the town centre, off Donna Buang Road. Leave the car here and head west, where you will be rewarded with an unbroken 7 km stretch through the shade of towering mountain ashes, to the Dee Road car park. This section of the trail is ideal if your training schedule demands either a fast, flat PB, or a leisurely recovery trot with commanding views down the valley. A 16 km loop can be created by taking Dee Road down to the Warburton Highway, where you can pick up the Rail Trail back to Warburton, then link up with your starting point at Yuonga Road.
On a warm sunny day, a number of creeks that tumble under the trail are a welcome relief for over-worked feet, but if it's potable drinking water you're after, don't forget to pack your hydration gear. The trail is isolated enough for GPS coverage to be sketchy at best, so if you're addicted to technology, this is the place to begin your withdrawal.
The trail continues west for a further 5 km or so from Dee Road to Don Road (not to be confused with the nearby Doon Road), before the aqueduct goes underground for about a kilometre. The trail continues though, and is eventually rejoined by the aqueduct, but both are given over to farmland beyond Parrot Road to the west.
For the more adventurous trail runner, taking the aqueduct trail east from Yuonga Road will have you encountering a rougher surface and sections where the aqueduct disappears into mountainsides. Thankfully, the authorities have connected these sections, providing for a more challenging, secluded run, which can take you as far as the O'Shannassy Weir – 20 km further up the valley. This trail is more technical and hilly with some boggy creek crossings, and will really appeal if you want a mix of distance and hills, with some reminders of your high school cross-country days.
Mt Donna Buang Trail (15km return – although the local sign says 12km)
This trail can be tackled from the picnic area at the bottom of Martyr Road, which fittingly, is rumoured to be the steepest residential street in the southern hemisphere. If this doesn't get your heart racing, the trail will, which drops into the bush at the top of Martyr Rd, then immediately dips, then weaves, then climbs its way for 4 km straight up to Donna Buang Road. The only flat section is where it crosses the Aqueduct Trail a few hundred metres from the start. It is possible to reach the summit via the road, but this would be too easy, and you don't want cyclists smiling at your muddy legs.
The trail continues into the bush towards Mt Victoria, where you will see the local communications tower. From here the trail veers to the left and is a straight forward, picturesque 3.7 km run along the saddle through open bush between the two peaks. The views from the top are fantastic, and if your quads comply, the summit tower climb is worth the effort.
This trail is not for softies. Expect a narrow, slippery trail through lush forest, plus barbed-wire fences, curious cows, leeches, fallen trees, and a climbing altitude of 1,000 metres. Depending on your leg strength, the return might be more of a test than the climb. Either way, take some replenishments and a full drink bottle, and you'll remember this run for a long time.