Rainforest Gallery - About 8kms / halfway up to Mt Donna Buang - Viewing Platform + optional 350m walk
Medicines have changed the world. Medicines have saved children, cured illness, prolonged life, extended the quality of life, and given life to our brothers, sisters, uncles, aunties, fathers, mothers, friends, neighbours, our old and our defenceless young. If you don't do it for yourself, then do it for the people you know, and do it for the people you don't know. Do it for your job. Do it for the economy. Get vaccinated as soon as you can. Thank you.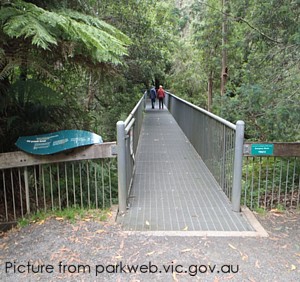 This beautiful site features a 40 metre long observation platform (one of only three of its type in Australia) which takes you into the rainforest canopy 15 metres above the ground.
A 350 metre long elevated walkway takes you through the Rainforest Gallery where you will see magnificent 65 metre tall old growth Mountain Ash trees, ancient Myrtle Beech trees (many of which are 300 to 400 years old), ferns, mosses and other plants that make up this damp and diverse rainforest environment.
There are several viewing spots along the walkway where you can pause and enjoy the sounds of Cement Creek flowing past on its journey to the Yarra River.
See website link for more info, photos and conditions
http://parkweb.vic.gov.au/explore/parks/yarra-ranges-national-park/things-to-do/rainforest-gallery-donna-buang