Rainforest Gallery - About 8kms / halfway up to Mt Donna Buang - Viewing Platform + optional 350m walk
Please contact suppliers and services directly as to how COVID-19 may affect the way their products or services are delivered. Stay safe everyone!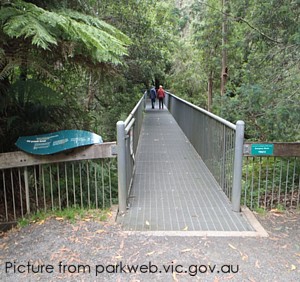 This beautiful site features a 40 metre long observation platform (one of only three of its type in Australia) which takes you into the rainforest canopy 15 metres above the ground.
A 350 metre long elevated walkway takes you through the Rainforest Gallery where you will see magnificent 65 metre tall old growth Mountain Ash trees, ancient Myrtle Beech trees (many of which are 300 to 400 years old), ferns, mosses and other plants that make up this damp and diverse rainforest environment.
There are several viewing spots along the walkway where you can pause and enjoy the sounds of Cement Creek flowing past on its journey to the Yarra River.
See website link for more info, photos and conditions
http://parkweb.vic.gov.au/explore/parks/yarra-ranges-national-park/things-to-do/rainforest-gallery-donna-buang