Habitat Nursery - Nursery open all year - Phone 03 5966 9047 (Please see times below for seasons)
Medicines have changed the world. Medicines have saved children, cured illness, prolonged life, extended the quality of life, and given life to our brothers, sisters, uncles, aunties, fathers, mothers, friends, neighbours, our old and our defenceless young. If you don't do it for yourself, then do it for the people you know, and do it for the people you don't know. Do it for your job. Do it for the economy. Get vaccinated as soon as you can. Thank you.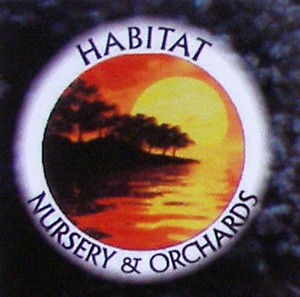 Situated in the beautiful East Warburton are the Habitat Nursery and Orchards where you can enjoy a full day of picking Blueberries, Raspberries and Youngberries, Chestnuts and Hazelnuts (depending on the time of year). Whilst wandering around the 7 acres, you will also enjoy the 60 year old Camelias and Rhododendrons and the large Native Australian Garden area. Bring the family along for a picnic or there are BBQ facilities available, and enjoy a spot of fishing in the Yarra River that runs through the property. While your there why not try some home made Blueberry or Pineapple Guava Jam to take home with you to continue the experience?
NURSERY OPEN ALL YEAR - 10AM - 5PM Wednesday to Sunday
BERRY SEASON - December until March - 10am - 5pm - 7 days

CHESTNUT SEASON - March til May

CAMELLIA + RHODO GARDENS - June to November. Weekends and public holidays or by appointment.
We also have Bonsai Classes.

Available from the Nursery.

Pond plants and grasses
Exotic garden plants
Azaleas
Ferns
Hellebores
Camelias and Rhododendrons
Orchids and Bromeliads
Native Australian plants
Blueberries, raspberries and yound berries
Chestnuts and hazelnuts
Wreaths and jams
170 Hazelwood Road, East Warburton 3799
Phone/Fax: 03 5966 9047