Annie's Escape in Warburton: Bookings call Annie 0409 063 543
Medicines have changed the world. Medicines have saved children, cured illness, prolonged life, extended the quality of life, and given life to our brothers, sisters, uncles, aunties, fathers, mothers, friends, neighbours, our old and our defenceless young. If you don't do it for yourself, then do it for the people you know, and do it for the people you don't know. Do it for your job. Do it for the economy. Get vaccinated as soon as you can. Thank you.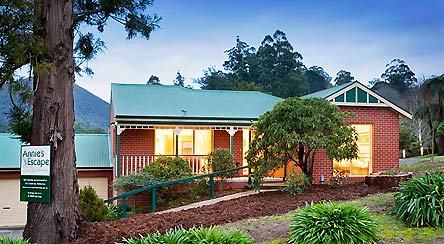 This delightful self contained cottage with well appointed facilities, furniture and very comfortable beds to sleep 4 people. Comprising of 2 bedrooms - the main bedroom with a queen size bed and remote control television and the 2nd bedroom with 2 single beds, bathroom (with shower and bath plus a separate toilet), a very comfortable loungeroom with a large TV and DVD, dining room and fully equipped kitchen.There are also 2 balconies and a lockup garage
Make Annie's Escape in Warburton your base and enjoy the natural beauty of the Yarra Valley including many magnificent walks along the river and nearby forests and mountains, enjoy a game of golf or bowls or for that matter take in a local football match at the Warburton oval during the season! Horse riding is another popular past time, so is flyfishing and platypus spotting.

An absolute must is a walk across the Brisbane Bridge (1 minute from Annie's Escape) to explore our unique shopping centre and experience our local cafés and fine restaurants. There is much to do and the mountain air and 'old world' charm combine to give you a holiday experience for both young and old. You are all welcome.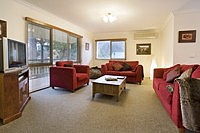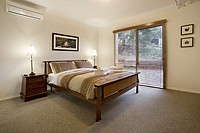 Email: use email form below.
http://www.anniesescapewarburton.com.au/