Alpine Retreat - Breakfast, lunch and dinner: Ph 03 5966 2411
 Please contact suppliers and services directly as to how COVID-19 may affect the way their products or services are delivered. Stay safe everyone!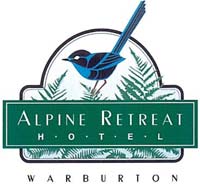 Open for breakfast , lunch and dinner seven days a week, the Alpine Retreat mixes quality classic hotel fare with a variety of fresh innovative dishes. Quality at a reasonable price.
Dining - open for breakfast , lunch and dinner seven days a week. Quality classic hotel fare with a variety of fresh innovative dishes. And don't forget the beer!. A good country hotel always take pride in serving the perfect ice cold beer. Here the Alpine never disappoints. :)
The Alpine Retreat Hotel
3340 Warburton Hwy, Warburton
(Just as you enter Warburton on the right - can't miss it!)

http://www.alpineretreat.com.au/dining.htm