Alpine Retreat - Breakfast, lunch and dinner: Ph 03 5966 2411
Medicines have changed the world. Medicines have saved children, cured illness, prolonged life, extended the quality of life, and given life to our brothers, sisters, uncles, aunties, fathers, mothers, friends, neighbours, our old and our defenceless young. If you don't do it for yourself, then do it for the people you know, and do it for the people you don't know. Do it for your job. Do it for the economy. Get vaccinated as soon as you can. Thank you.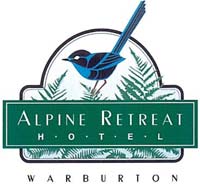 Open for breakfast , lunch and dinner seven days a week, the Alpine Retreat mixes quality classic hotel fare with a variety of fresh innovative dishes. Quality at a reasonable price.
Dining - open for breakfast , lunch and dinner seven days a week. Quality classic hotel fare with a variety of fresh innovative dishes. And don't forget the beer!. A good country hotel always take pride in serving the perfect ice cold beer. Here the Alpine never disappoints. :)
The Alpine Retreat Hotel
3340 Warburton Hwy, Warburton
(Just as you enter Warburton on the right - can't miss it!)

https://www.alpinehotelwarburton.com.au/