Warburton Christian Playgroup - Contact: Ngaire Holman on 03 5964 7341
Medicines have changed the world. Medicines have saved children, cured illness, prolonged life, extended the quality of life, and given life to our brothers, sisters, uncles, aunties, fathers, mothers, friends, neighbours, our old and our defenceless young. If you don't do it for yourself, then do it for the people you know, and do it for the people you don't know. Do it for your job. Do it for the economy. Get vaccinated as soon as you can. Thank you.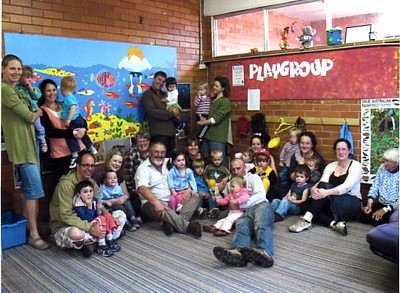 Warburton Christian Playgroup has been functioning now for just over 6 years. The intent was to bring a professional playgroup program to the many mothers in the Upper Yarra community who feel the need of some contact with other parents and to give their children somewhere to play with their peers. Since its inception, the playgroup, in two distinct group each week, has grown to service an average of 15 to 25 children each session with their parents, including mothers, fathers and grandparents – all are welcome.
The premises are ideal as there is plenty of room for a wide range of table activities and play areas, under the facilitation of Ngaire Holman, an experienced preschool and primary teacher. The program consists of general play with painting, drawing, mat play and books, followed by a snack time where the children use miniature cups, saucers and plates as they eat their fruit. This is followed by music and a story relating to a take-home craft. . Everyone joins in and the children especially enjoy putting away the toys in the store room.
A children's and parent's library has a range of books, videos and DVDs that participants are welcome to use. The session cost per family is an "honesty" gold coin. There is also a $10 per year membership fee. Other operating costs have been generously granted over the years by the Upper Yarra Community Enterprise (Bendigo Bank). The Playgroup early achieved a 5-Star status from Playgroup Victoria, and in August 2011, received their inaugural Playgroup of the Month Award (pictured). The important thing is that there is an atmosphere of fun, chatter, nurturing and general friendliness and sharing.
Location: Redwood Centre (the former SDA School), Warburton Hwy, Wednesday and Thursdays 9.30 to 11.30am. Contact: Ngaire Holman on 59647341 for further information.
| | |
| --- | --- |
| | Ngaire Holman receiving the Playgroup of the Month Award from the CEO of Playgroup Victoria |