Advertise on WarburtonInfo.com - pauljackson.biz - Phone 0409 004 770
Medicines have changed the world. Medicines have saved children, cured illness, prolonged life, extended the quality of life, and given life to our brothers, sisters, uncles, aunties, fathers, mothers, friends, neighbours, our old and our defenceless young. If you don't do it for yourself, then do it for the people you know, and do it for the people you don't know. Do it for your job. Do it for the economy. Get vaccinated as soon as you can. Thank you.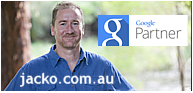 Since 2009, Paul has partnered with The Warburton and Yarra Junction Community Banks, The Warburton Water Wheel Information Centre, The Warburton Chamber of Commerce and Yarra Ranges Council to deliver this local information directory now receiving around 6000 unique visitors a month. Warburtoninfo has become an important information conduit for our region - and is helping local businesses grow and stimulate local employment.
In addition to helping you advertise your business on WarburtonInfo.com - Paul provides Google advertising, SEO advice and quality link strategies to help business websites search higher on Google. Online marketing help for over 300 businesses in Australia, NZ, the UK and USA.
personal service - you speak with Jacko direct
extra visibility on Google, Yahoo and Bing
better Google page rank and search engine results
more business online by outranking competition
get simple - quick - message delivery for your business