Warburton Oil Crisis Tribe
Medicines have changed the world. Medicines have saved children, cured illness, prolonged life, extended the quality of life, and given life to our brothers, sisters, uncles, aunties, fathers, mothers, friends, neighbours, our old and our defenceless young. If you don't do it for yourself, then do it for the people you know, and do it for the people you don't know. Do it for your job. Do it for the economy. Get vaccinated as soon as you can. Thank you.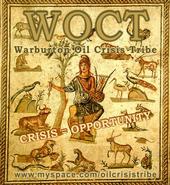 The Warburton Oil Crisis Tribe or WOCT is a group of people who are passionate about creating sustainable communities that will lead humankind into a new paradigm of living in harmony with the Earth and with one another.
With Peak Oil and Climate change and the growth of humans towards greater self-actualisation all happening at the same time we aim to nurture and encourage this transition toward more conscious living on the planet.
We aim to inspire people to bring forward their individual gifts and talents so that they may participate within our local community in ways that bring joy and abundance to all.
This is to be done through public awareness raising events and publications and through developing community projects together within our local region.
WOCT – Alan Seppings, Peter Downey, Benno Poeder & Gail Goodwin, Sushie Narayan & Ralph Ballard