October 2017: annual event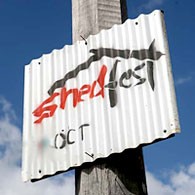 Last event: Saturday 8th October.. Take the right turn onto the Yarra Valley's Warburton Highway for Shedfest 2016.
The picturesque Warburton Highway, in the Yarra Valley, is home to some of the most inviting wineries in the region. A great time to visit is during the Shedfest Wine Festival, held annually on the second weekend in October. 2016 will be the 14th year for the festival to run and showcase the unique charm of some of the wineries and vineyards along the southern side of the Yarra Valley.
It's an ideal weekend to relax, chat to the makers, taste local produce, be captivated by the stunning views, tap your toes to fine tunes, be entertained and watch the kids have fun, all while sipping delightful wines.