25 February 2018 Up and Running - rehistrations open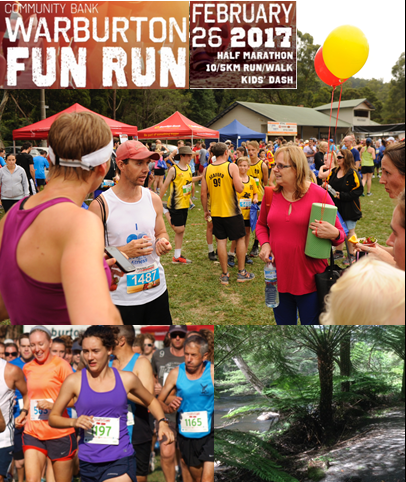 Warburton Up and Running 2017 results here at Tomato Timing.
See website to register for 2018.
Warburton Up and Running is a family fun run in one of the most beautiful and easily accessible areas east of Melbourne. Run alongside the clear waters of the upper Yarra River, among towering Mountain Ash forest. Events include a 2km kids' run, 5 km walk, 5 km run, 10 km run and a Half Marathon. Proceeds support the Warburton CFA and Upper Yarra SES.

Next event: 25 February 2018. Check in here or at Up and Running website for registrations which usually open before Christmas.
The TEAM competition for 2017 was an aggregate of the combined total distance run by all members of the team. So, times were not a deciding factor. All team members were included and all events were counted - kids' 2km run, 5km walk, 5km run, 10km run and Half Marathon. Team members were still eligible for individual prizes. A minimum of 4 members were needed to start a team. There were two team prizes, one for the team with the greatest aggregate distance and one randomly drawn from all of the other teams.
www.warburtonupandrunning.com.au
2km kids (U14) run
5km walk
5km run
10km run
Half Marathon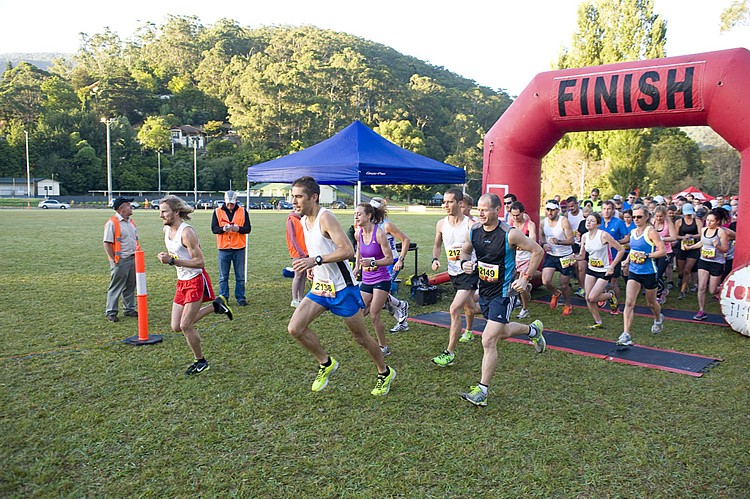 Pic above: 2014 Half Marathon Start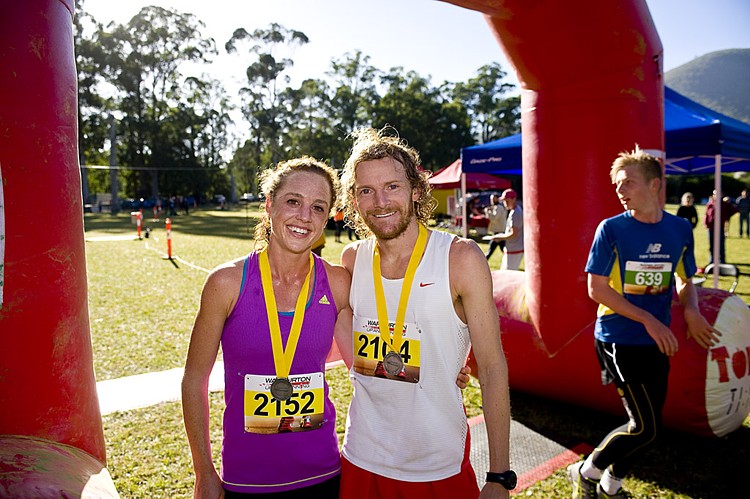 Pic above: Half Marathon 1st Man and 1st Woman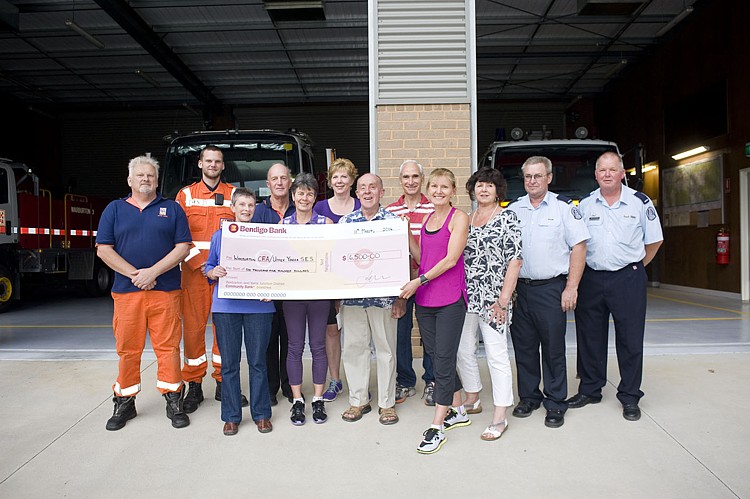 Pic above: Presentation of $6500 cheque to CFA and SES. Not only did everyone have great, healthy fun at Warburton Up and Running - it helps our local emergency services.
This photograph by John Bodin

About event:
Over many years, the township of Warburton, 80km east of Melbourne, has developed a deserved reputation for its beautiful, green environment and leisurely lifestyle.
Warburton offers unsurpassed access to the crystal clear upper Yarra River by means of an excellent network of walking tracks and bridges – and a wealth of delightful picnic spots – while the township itself is blessed with a range of fine restaurants and fascinating shops.
It is renowned for the Warburton Rail Trail (walking, horse riding and cycling), mountain biking, a picturesque and challenging golf course and the many excellent wineries nearby.
With its large range of active community groups, the district continues to work together to achieve some amazing feats, including establishing one of the first Community Banks in Australia.
Warburton - Victoria's best kept secret!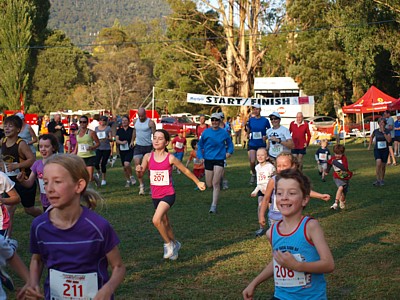 Parents accompany some kids on the 2km run in a previous event.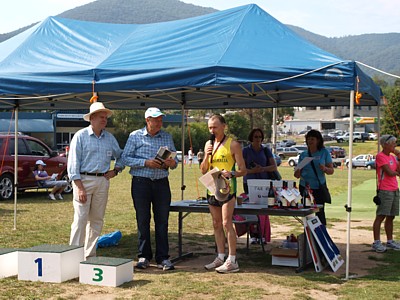 Peter Black receives award for competing in all 10 events over 10 years.
This event is run entirely by volunteers and profits are returned to the Warburton Community through the Warburton Advancement League.
http://warburtonupandrunning.com.au