Upper Yarra Print and Design - Warburton - Ph Paul on 03 5966 2296
 Please contact suppliers and services directly as to how COVID-19 may affect the way their products or services are delivered. Stay safe everyone!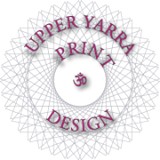 Upper Yarra Print and Design officially opened its business in the Warburton Main Street in 2013.
Open during standard business hours or phone Paul on 0402 478 077.
All welcome.
Situated next to Yarra Valley Showcase in the lower room.
Entry via the side of the building or through Yarra Valley Showcase
**Paul supplied the beautiful image we are now using in the www.warburtoninfo.com banner from early December 2013. This will continue a theme of 'nature and beauty' that binds the entire Warburton Highway and Warburton Valley together. These are the images that help us explain why the Warburton Valley is 'A beautiful place to live and play'
http://www.upperyarraprint.com.au/Home.html