Warburton Lodge : Phone Yvonne 03 5966 2037
Please contact suppliers and services directly as to how COVID-19 may affect the way their products or services are delivered. Stay safe everyone!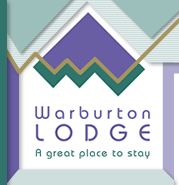 Situated in the most scenic part of Warburton with spectacular views of Mt Victoria, Mt Donna Buang and the Yarra Ranges National Park. Warburton Lodge is a relaxing hotel for a quiet time or as a base from which to explore and discover this very special environmental wonderland.
On this site you can explore warburton, book a hotel room and view the many facilities and features of Warburton Lodge, oldest heritage hotel of Warburton.
Warburton Lodge is a hotel which has wonderful facilities (tennis court, conference centre, BBQ areas, etc.) and is wonderfully located to take advantage of the sites and views of the Yarra Valley. If you are looking for a hotel in Warburton, then choose the hotel with atmosphere and heritage; Warburton Lodge, a wonderful hotel in the Yarra Valley.
Warburton Lodge is nestled at the foot of Mt. Victoria and Mt. Donna Buang
Email: use email form below.
http://www.warburtonlodge.com.au